Mullen Automotive stock collapse halted at $0.20, is this the bottom?

Shares:

Mullen Automotive stock has lost about 80% of its value since May 4.
Now the EV startup issued another 586 million shares to investors for immediate resale.
Mullen will receive no remuneration for this re-sale.
Mullen hopes to approve another reverse stock split at its August 3 meeting.
UPDATE: Mullen stock dropped another 5.3% at Thursday's regular session open to trade at a new, split-adjusted all-time low of $0.2130, and seems to have gained some support above the round $0.20 mark.
Another day, another sell-off for Mullen Automotive (MULN). CEO David Michery and company continue to dilute the burgeoning electric vehicle (EV) upstart at a record pace, which is causing the MULN price share to dwindle. MULN stock is now down 79.9% since the 1-for-25 reverse stock split that took place just a little over a month ago on May 4.
MULN stock lost 33% in just 24 hours on Wednesday. First, Mullen's shares dropped 30% in the regular session on Wednesday, which was followed by another 6.3% fall after hours. Altogether, the MULN stock price dropped from $0.3215, the closing price on Tuesday, to $0.2109 by the end of Wednesday's post-market session.
Mullen Automotive stock news: Another boat load of dilution
Following the Acuitas Capital deal in early June that allowed Mullen common stock to be diluted as much as 36%, give or take since much of it was in warrants, management at the development-stage automaker issued a new filing with regulators on Monday to issue nearly 586 million in new common stock shares.
Dated June 12, the filing with the Securities & Exchange Commission (SEC) is a prospectus supplement that details Mullen registering 585,937,467 of new shares of common stock for resale.
A number of individuals and entities who had issued warrants in the past have now been exchanging those warrants for common stock and immediately selling them. None of the proceeds of these sales went to Mullen. These seller entities include Esoussa Holdings, Michael Wachs 2022 Dynasty Trust, Acuitas Capital, Micael Friedlander, Jess Mogul, Jim Fallon, Davis-Rice Pty Limited and Ault Lending.
For color, Mullen's filing reads: "As of June 7, 2023, we had outstanding 243,567,602 shares of Common Stock. As of that same date, we also had outstanding 1,037 shares of Series A Preferred Stock convertible into an aggregate of 4,148 shares of Common Stock, 1,210,056 shares of Series C Preferred Stock convertible into an aggregate of 14,523 shares of Common Stock and 363,097 shares of Series D Preferred Stock convertible into an aggregate of 48,402 shares of Common Stock. The issuance of shares of Common Stock upon the conversion of such shares of preferred stock would dilute the percentage ownership interest of holders of our Common Stock, dilute the book value per share of our Common Stock and increase the number of our publicly traded shares, which could depress the market price of our Common Stock."
At least they are aware! Mullen's current agreement with its board allows for the creation of up to 5 billion shares of common stock and 500 million preferred shares.
Mullen stock news: Another reverse stock split headed for shareholder vote
Mullen also announced that it would schedule its shareholder meeting for August 3. At the meeting, management said it would bring up for a vote the need to effect another reverse stock split. This is because the NASDAQ exchange requires companies to maintain a share price above $1.
The separate SEC filing says Mullen will enact a reverse split between a 1-for-2 and a 1-for-10 structure. The reverse split on May 4 was 1-for-25, pushing the share price from around $0.064 to $1.60. The share price dropped below $1 before the calendar had even switched to June however.
The shareholder event will also allow voting on switching from a Delaware Corporation to a Maryland Corporation, issuing another $30 million in common stock and approving 52 million in new shares for incentive pay.
Mullen Automotive FAQs
What is Mullen Automotive?
Mullen Automotive is a publicly-traded development-stage electric vehicle company based in Brea, California that typically uses outside partnerships to manufacture its vehicles. The company was founded in 2014 and currently sells self-designed electric delivery vehicles. Besides its commercial offerings, Mullen plans to start manufacturing its Mullen FIVE EV crossover in late 2024 or early 2025. Mullen Automotive went public on the NASDAQ exchange through a reverse merger in late 2021.
Who is the team behind Mullen Automotive?
David Michery has been the company's CEO since he founded and incorporated the company in 2014. The existing company came from the merging of CODA Automotive and Mullen Motor Cars through acquisition. Michery is joined by Chief Financial Officer Jonathan New, Chief Commercial Officer John Schwegman and President of the Automotive Division Calin Popa.
What vehicles does Mullen Automotive currently offer?
Through a partnership with Randy Marion Automotive Group, Mullen distributes its Mullen One delivery van that has an electric range of 110 miles. Through an agreement with a Chinese manufacturer and distributor based in Ireland, the company also distributes the Mullen-GO Commercial Urban Delivery EV in Europe. In July 2023, Mullen will begin commercial production at its facility in Mississippi of its Class 3 EV Cab Chassis long haul truck for immediate delivery. Through its 60% ownership stake in Bollinger Motors, Mullen will also reap the benefits of that company's B1 SUV and B2 pickup truck, as well as other commercial vehicles in the future. The Mullen FIVE crossover vehicle is not slated for production until at least late 2024, but it is already taking reservations.
Why does MULN stock trade for such a low share price?
Mullen has been diluting its stock since going public in late 2021. This is because the company as of yet currently has little revenue from operations and no profits. The stock has fallen over 99% since the company's reverse merger in November 2021, and the rapid dilution is mostly to blame. Taking into account Mullen's 1-for-25 reverse stock split on May 4, 2023, Mullen had 33,338,727 shares outstanding on September 30, 2022, but 126,281,274 shares on March 31, 2023. The company is allowed to sell up to 200 million shares under current authorization.
Mullen stock forecast
While the rest of the market is booming due to the lower May Consumer Price Index (CPI) data reported on Tuesday and Wednesday's expectations for a Fed rate pause, Mullen stock should continue to fall. The heavy amount of constant dilution required for Mullen to ramp up to a profitable business is large.
The Relative Strength Index (RSI) is highly oversold, but in this case it is not a bullish signal. Mullen will likely lose more than 50% of its per share value before the next reverse split is enacted in August, and then shareholders should expect to continue being diluted after that.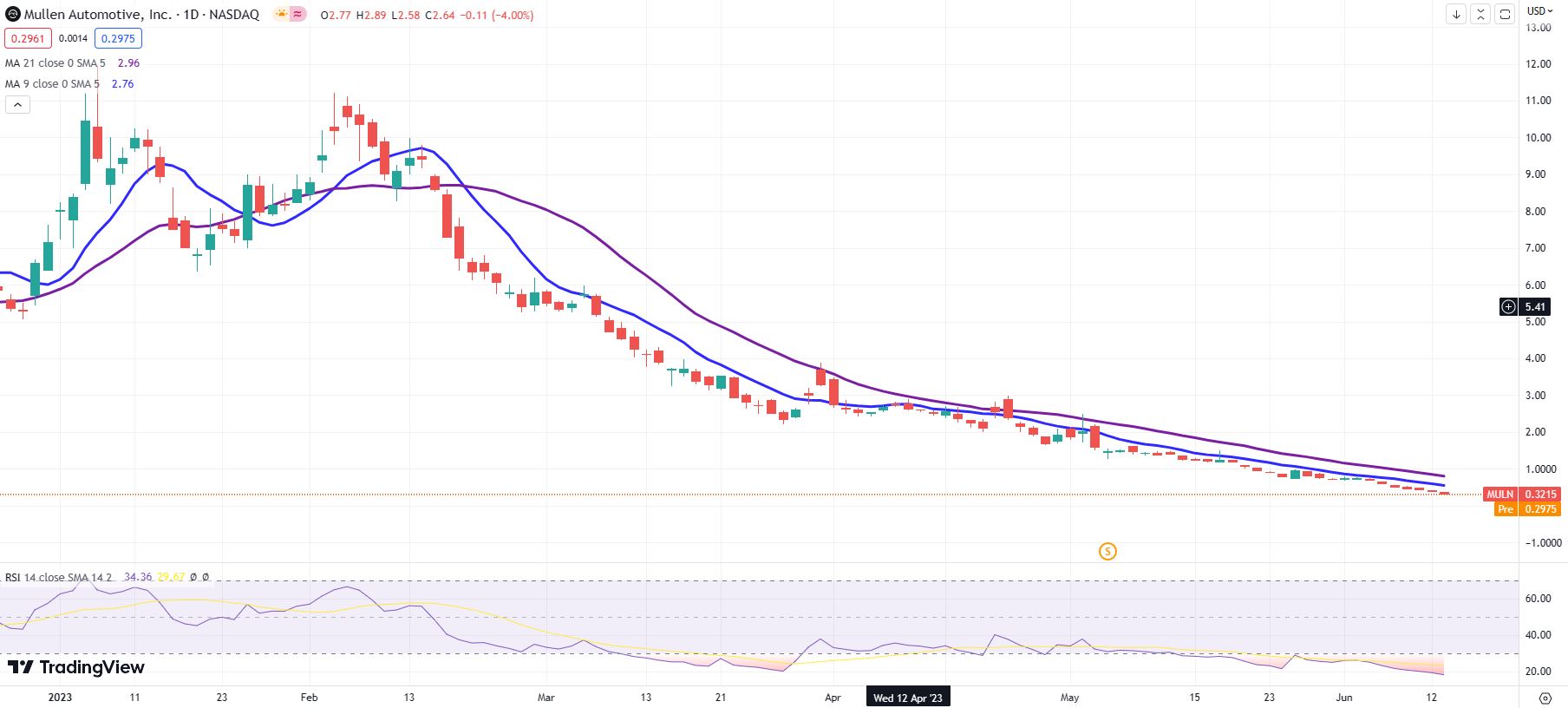 MULN daily chart